Evolution & Human Health
Our research focuses broadly on evolutionary applications to human health and disease. Our work is motivated by fundamental questions in life history theory. We use a combination of genomics, comparative biology and evolutionary theory to help understand trade-offs between survival and reproduction across different levels of biological organization, from molecules to organisms and everything in between.
Elephant Genome & Disease Defense
New preprint on bioRxiv
Draft genome assembly for the Asian elephant and an improved African elephant assembly, showing differences in disease defense, including cancer.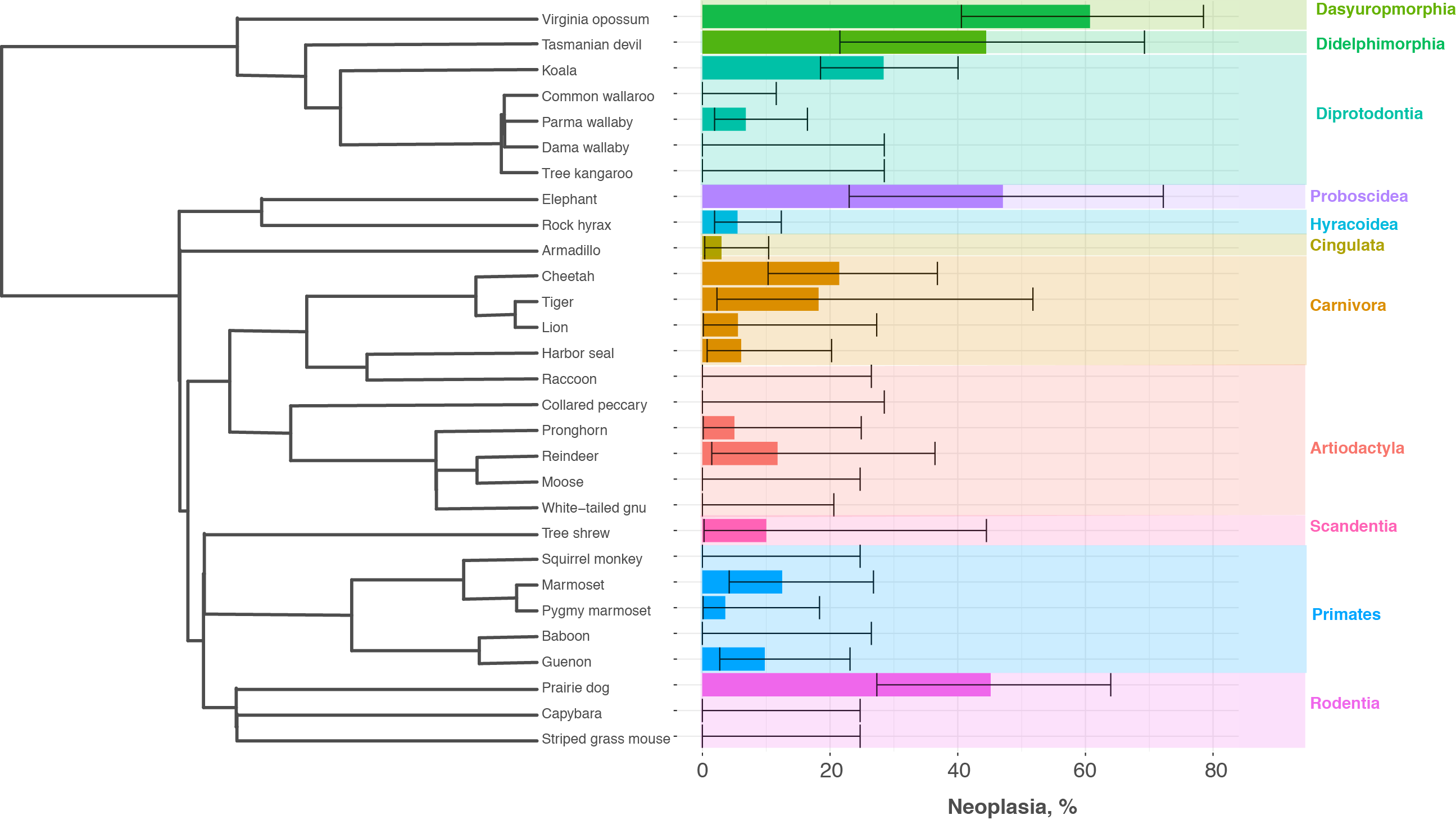 Life History & Cancer in Mammals

New paper in EMPH
We report on cancer prevalence and life history traits in mammals. We find support for Peto's Paradox and suggest a trade-off between reproduction & cancer defenses! 
The promise of comparative oncology
New paper in iScience
Check out our new review on cancer across vetebrates.
Funding Alert!
Carmen
 Hové awarded NSF DDIG
Carmen  was awarded an NSF Doctoral Dissertation Improvement Grant!! She will be studying the link between maternal immune function, maternal health, and breastfeeding behavior in postpartum mothers.
Wildlife Cancer
Collaboration with Kenya Wildlife Services
Investigating the incidence and type of cancer in wild animals, including elephants, zebras, and rhinoceros. Read more about our cancer across species project and the goals of ACE here.
Congrats Maya!
Maya Szafraniec becomes ethics fellow
Maya Szafranic joins the American Association of Physical Anthropologist (AAPA) 
Ethics Committee. 
Funding Alert!
Dr. Boddy awarded NIH Admin Supplement funding!
In collaboration with Dr. Abegglen, Dr. Harrison, and Kenya Wildlife Services, we will study cancer in Kenyan wildlife.
Welcome Dr. Pan!
Tiffany Pan joins the group. 
Dr. Pan will be working as a postdoc studying maternal and fetal microchimerism.